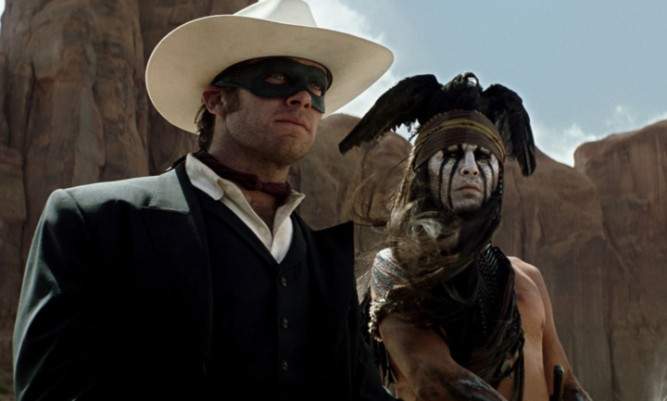 Johnny gives Tonto the personal touch in Disney's Lone Ranger.
"It's a strange job for a grown man," says Johnny Depp of his profession. "I don't think I've developed a taste for it and I don't think I ever will. But I've had worse jobs."
As a former construction worker and telemarketer for pens, self-effacing Johnny is right to count his blessings even if he doesn't entirely appreciate the validity of acting.
If it's a strange job then he's certainly made it stranger with his choice of roles, from his breakthrough performance in Edward Scissorhands to his recent turn as vampire Barnabas Collins in Dark Shadows.
He's at it again in The Lone Ranger, depicting a Tonto who is unrecognisable from the one portrayed by Jay Silverheels in the 1950s television series which itself was far removed from Tonto in the long-running radio series where the character was created purely so that the Lone Ranger would have somebody to talk to.
"It was very important to me that the Native Americans were represented with the dignity and the integrity that we know them to have," Johnny tells me when we meet up at London's
Corinthia Hotel.
"We had a duty to show what crimes were committed against them. especially at that time, as progress was bashing its way westward and to take the way the Native Americans have been portrayed in cinema the clich of them as savages and flip that on its head.
"When it came to the look of the character, I'd seen this image of a warrior with black bars down his face. To me it looked as if they were dissecting the man.
There was the damaged child on one side, and the great warrior on another…so that was the inspiration for the character.
"It's one of those things, you get away with it or you don't, and I feel like my intention was good with the character and I feel happy with it."
With a nod to the past, the film begins in 1933 the same year as the first episode of The Lone Ranger was broadcast on radio with a young boy visiting a fair in San Francisco.
Dressed as his hero, the legendary Lone Ranger (played in the film by striking American actor Armie Hammer), he fires his toy pistol at the exhibit of "The Noble Savage" only to have his bullets returned with words as the elderly Comanche in the display turns out to be alive.
He proceeds to recount his experiences with the Old West adventurer who the boy idolises.
"If you think Tonto was eccentric, spend some time with the Comanche they're funny people, man," says Johnny, who claims to have Cherokee blood.
He was actually adopted by the Comanche nation in a ceremony carried out during filming and given the Comanche name Mah-woo-meh (meaning "He Can Change").
"Spending time with some of the elders of the Comanche nation, talking about their history from their perspective that in itself was everything to me, just being welcomed into that world.
"There may be something in the fact that when I was a little kid I'd been told that we had some degree of native American blood in us, I always found that a point of pride. So when it came to cowboys and Indians I most certainly did not want to be John Wayne. I always wanted to be one of the Indians."
Johnny was something of a lone ranger at the London premiere of his film last month as he walked the red carpet without new girlfriend Amber Heard, even though the Zombieland actress who's 23 years Depp's junior had come to the UK with him.
They got together after Johnny split from long-term love Vanessa Paradis, the mother of his two children.
"My kids are what I'm proud of most," he says when he's asked to reflect on his life now he's 50. "My daughter Lily Rose, who's 14, and my boy Jack, who's 11.
"There's nothing I've done in terms of anything else in my existence that comes close. The work is work."
Although as the former construction worker in Johnny will no doubt testify, being a film star sure beats digging a hole in the ground.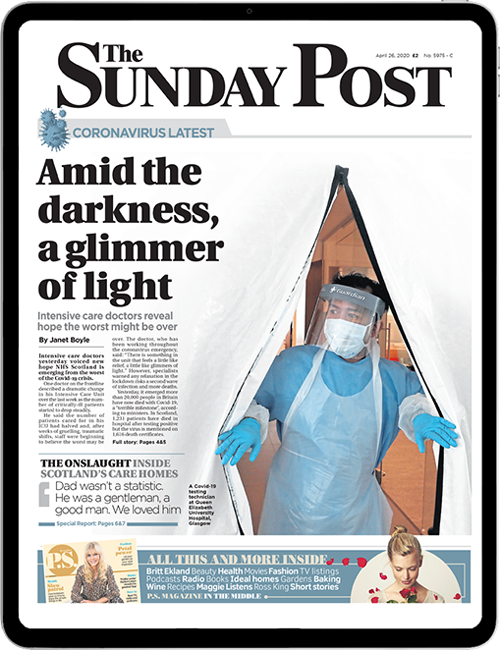 Enjoy the convenience of having The Sunday Post delivered as a digital ePaper straight to your smartphone, tablet or computer.
Subscribe for only £5.49 a month and enjoy all the benefits of the printed paper as a digital replica.
Subscribe