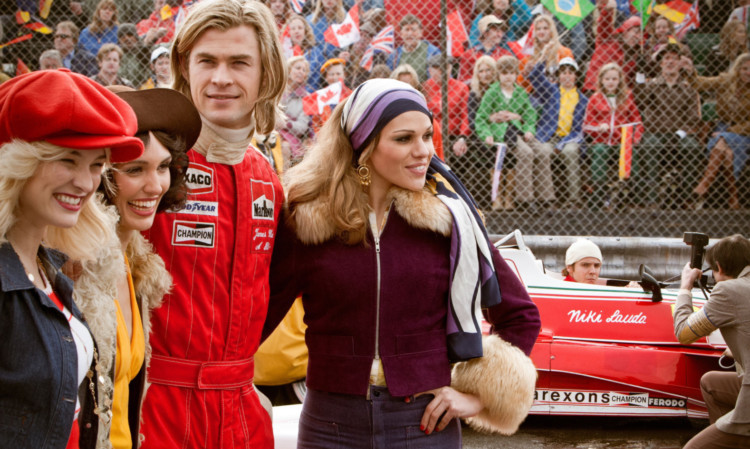 Aussie actor stars in new movie Rush uncovering the bitter battle between F1 rivals Hunt and Lauda.
Chris Hemsworth became a father for the first time last May.
Daughter India Rose was born in London while the Australian actor was here filming Rush, Ron Howard's fuel injected thriller about the 1970s Formula 1 duel between James Hunt and his Austrian rival Niki Lauda.
https://youtube.com/watch?v=QKAr42gxjhM%3Frel%3D0
That Chris was working right up until the birth shows his dedication to his craft because according to him he should have been on maternity leave!
"I had just come off playing Thor in Avengers Assemble and I had to get down from 215lbs (15st 3) to 185lbs (13st 2) to play James," explains Chris.
"My wife was pregnant at the time but I felt I had more symptoms of pregnancy than she had I was moody, I was hungry, I was tired, my hair was falling out. And it was all because of this crazy restrictive diet."
Born in Melbourne, Hemsworth is now a Hollywood leading light thanks to a string of blockbuster hits including Thor, Avengers Assemble and Snow White and the Huntsman.
At 30, he's too young to have first-hand knowledge of the events portrayed in his latest film but admits to having his eyes opened at the lax regulations in place in the sport at that time.
"I remember Ron saying, 'the 1970s was when the sex was safe and the driving was dangerous' and now it's the other way round.
"There were four or five drivers dying a year and you think 'why would you do that as your profession?'. But nothing forces you to be in the moment more than the threat of death and I think that adrenaline rush becomes addictive and we, the fans, want to see people experience that."
Howard's film concentrates on a four year period culminating in the 1976 season when the two leading drivers of the day gripped the world as they vied for the world championship.
Representing McLaren was James Hunt, a hard drinking playboy who seemingly held a devil-may-care attitude to Formula 1 but loved the fact that it put him on a fast track to meeting beautiful women. Just how many Chris discovered for himself while filming.
"I met three women who all said, 'oh I knew James, I dated him'," laughs the actor. "And none of those ex-girlfriends had a bad thing to say about him. They said he never lied about who he was so you couldn't criticise him for not turning out to be the most faithful partner."
His moral compass was pointed in the opposite direction to deadpan family man Lauda, whose extra-marital passions were reserved for the Ferrari car that saw him win four of the 1976 season's first six races until a horrific accident seemingly put paid to his title bid. But, showing incredible courage, he returned to the track after missing only two races.
"Niki was calculated and focused. James was very different," says Chris.
"He used to work himself into a state of heightened adrenaline, almost anxiety (Hunt was famously sick before most races) because he knew he was then able to hyper focus on the race."
As a responsible parent who drives an Acura MDX "an SUV-looking thing, but a little smaller" Chris admits he found sitting behind the wheel of a Formula 1 car a little daunting.
"We drive around in our normal cars and we feel quite separate from them and from the world whereas when you're in an F1 car you're so close to the ground and so connected to that machine that you feel every bump.
"And there's such a sense of power because it's right at your fingertips, but you also realise how vulnerable you are. The first time you get in the car you pretty quickly understand the attraction.
"There's certainly a rush."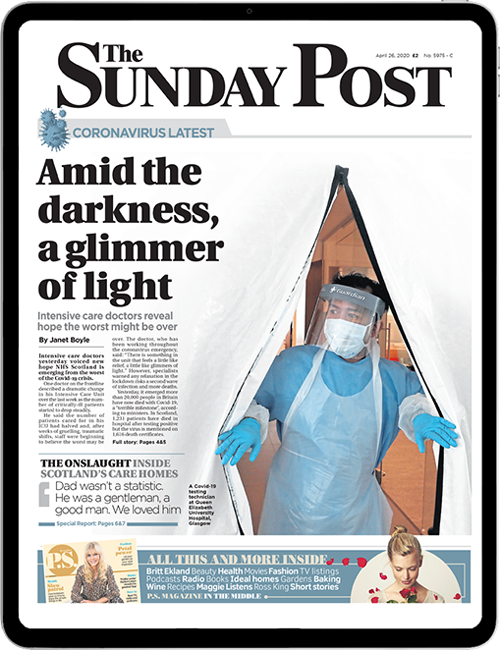 Enjoy the convenience of having The Sunday Post delivered as a digital ePaper straight to your smartphone, tablet or computer.
Subscribe for only £5.49 a month and enjoy all the benefits of the printed paper as a digital replica.
Subscribe