Chris Evans has learned the importance of conducting himself properly.
When you've battled genetically modified Nazis, been frozen in a glacier for 70 years and then woken up just as Earth is threatened by an invasion from outer space, it's easy to lose touch with reality.
But filming Captain America: The Winter Soldier among the landmarks of Washington D.C. brought home to Chris Evans that, when an actor is looked upon as a superhero, it's just as important how he conducts himself away from the world of make believe.
"I loved seeing all the kids on the National Mall and streets of Washington D.C." Chris said ahead of the London premiere of the latest Marvel adventure last week. "It reminds you that when you play a role like Captain America or any superhero, kids look up to you and you really have to be conscious of that and make sure your actions are in alignment.
"The cornerstone of Steve Rogers is being selfless and putting the needs of others first.
"So if I can just be a little like Steve Rogers, then I know I'm doing something right."
Chris was dutifully signing autographs and posing for pictures with fans who had waited for hours at the Westfield Shopping Centre in Shepherds Bush on Thursday, the unlikely venue for the gala evening, but the lenses of the UK's media were very much focused on his co-star, Scarlett Johansson.
Scarlett originally appeared as the Black Widow alongside Robert Downey Jr in Iron Man and Marvel's producers noted that she and Chris shared a good on-screen chemistry in the 2012 blockbuster Avengers Assemble.
So they decided to pair them in the next instalment of the Captain America saga (which was also a convenient way of keeping Scarlett away from the bristling Gwyneth Paltrow after the pair reportedly failed to get along on the Iron Man set).
"I've known Scarlett for more than 10 years now. She's like a sister," said Chris.
"We've done four movies now, (as well as already starting work on next year's Avengers sequel they also appeared in The Nanny Diaries in 2007) and it's nice having a history with someone off camera because I think that bleeds on-screen."
But the reason for the attention being rained on the beautiful blonde, beyond the usual, was not because of her on-screen relationship with Chris.
It was due to the fact that it was her first visit to these shores since the story broke that the 29-year-old was expecting her first child with French fiance Romain Dauriac.
She was proudly sporting her sparkling Art Deco-style diamond ring last week during Captain America's promotional tour but staying tight-lipped about the pregnancy and doing her best to hide the bump.
It was left to Marvel Entertainment President Kevin Feige to confirm the story, saying he was "very happy for her" and that the projected August birth had meant some "moving of the pieces on the chess board schedule-wise" with the filming of The Avengers: Age Of Ultron and a Black Widow spin-off in mind.
Thirty-two-year-old Chris was forced to clarify reports about his own future in the franchise, after being reported as saying his "heart wasn't in it as it once was".
"Oh yeah, that was a big thing! I've got to watch what I say," he laughed. "I will clarify. I have a six-movie contract with Marvel and I absolutely plan on fulfilling them.
"This is without a doubt the biggest blessing in my life.
"I did direct last year (the rom-com 1.30 Train) and it was a fantastic experience, I really enjoyed it.
"I'm looking to do that a bit more, so when it comes to other acting jobs I may not be as proactive in trying to find those.
"I may stick with my Marvel universe in front of the camera, and then get behind the camera outside of it."
Captain America is at cinemas from Friday.
Our Vertict
The best comic book movies of recent times X-Men, Batman Begins, the first Iron Man and Avengers Assemble have all delved a little deeper into the superhero soul.
Captain America digs a little deeper still and it's a pleasant surprise to find a film such as this challenging state-sponsored surveillance and making a covert reference to the work of Wikileaks and Edward Snowden.
Picking up two years on from the alien invasion of Avengers Assemble, S.H.I.E.L.D. has now positioned itself as the world's protector, but Steve Rogers begins to challenge their way of working and becomes a target for them himself.
Throw in the usual Marvel mix of humour, set-piece fight scenes and big things getting blown up,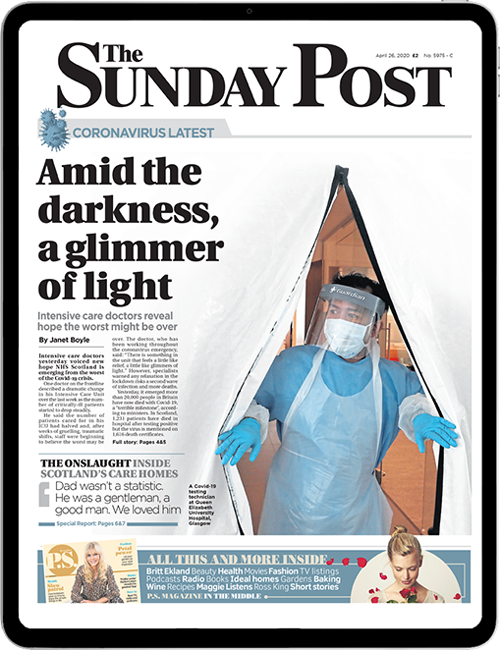 Enjoy the convenience of having The Sunday Post delivered as a digital ePaper straight to your smartphone, tablet or computer.
Subscribe for only £5.49 a month and enjoy all the benefits of the printed paper as a digital replica.
Subscribe