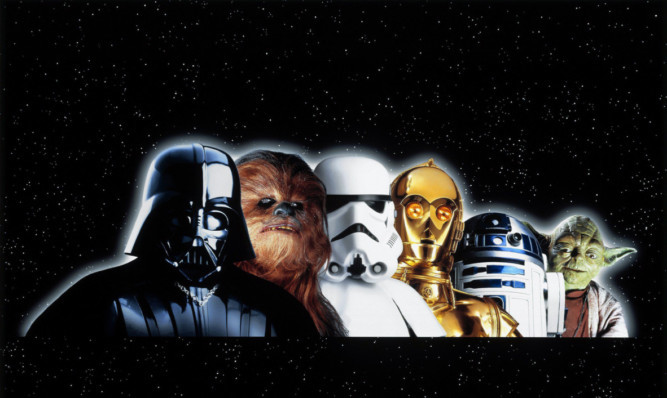 A long time ago in a galaxy far, far away, no one had ever heard of Star Wars.
But that was before those familiar yellow letters scrolled up the screen and launched one of the world's biggest film franchises.
Only James Bond and Harry Potter have grossed more cash. And it was all spawned by the original film, released on May 25, 1977, which would go on to make more than three-quarters-of-a-billion dollars in ticket sales worldwide. Adjusted for inflation, it's still the third-highest-grossing film of all time.
Star Wars' usual description as a "space opera" is a nod to its sprawling tale of the age-old battle of good versus evil. Creator George Lucas wanted to forge a modern mythology, and incorporated elements from traditional fairytales trapped princesses and the like. He also acknowledged The Lord Of The Rings as a major influence in how to tell the story of a hero's journey, and that Obi-Wan Kenobi and Darth Vader were based on Gandalf and the Witch King. Other sources of "inspiration" were Frank Herbert's epic sci-fi novel Dune, with the author later finding "16 points of identity" common to both, and perhaps less obviously The Wizard Of Oz.
When you think about it, though, the scuttling Jawas are reminiscent of the Munchkins and at the beginning of the film, Luke lives on a farm like Dorothy. C-3PO's clanking sounds were inspired by the Tinman while his lack of bravery came from the Cowardly Lion.
Lucas's second film, American Graffiti, had been dollar-for-dollar the most profitable movie in Hollywood history. Without that, he'd never have convinced studios to back his Star Wars project. Even so, both United Artists and Universal passed on a movie they found bewildering, and it took a lot of persuading to get 20th Century Fox to agree a deal. They stumped up $8.25m so tension was high when Lucas showed them an early cut of the movie in February, 1977. He'd invited several director friends along including Brian DePalma, John Milius and his close pal Steven Spielberg, as well as the Fox executives. The version was rough, without any special effects and with hand-drawn arrows replacing blaster beams, dogfight footage from war films standing in for the space battles and Dave Prowse's own West Country tones delivering arch-villain Darth Vader's lines.
For the climactic attack on the Death Star, Lucas substituted clips from The Dam Busters and later admitted he'd stolen the idea wholesale from the classic British war flick. Of the directors, only Spielberg was enthusiastic but that didn't matter as the studio's hotshots loved the picture. That was despite, against their advice, Lucas insisting the main cast were unknowns so that famous faces didn't distract the audience from his story.
But being in the biggest picture in Hollywood history didn't set many actors on the course for stardom. Only Harrison Ford, who played cocky space pilot Han Solo, joined the Tinseltown A-list.
It's true that Dave Prowse, Peter Mayhew, Anthony Daniels and Kenny Baker had an excuse they were hidden under the costumes of Vader, Chewbacca, C-3P0 and R2-D2 respectively. But Carrie Fisher and in particular Mark Hamill nominally the star of the show, Luke Skywalker never really left the launchpad.
Daniels at least has the compensation of being the only actor to have appeared in all six films to date, as well as The Clone Wars animated series.
Mind you, the script didn't help. Lucas famously has no ear for realistic dialogue, preferring a declamatory style of acting, which is why old hands such as Alec Guinness and Peter Cushing came across more comfortably than their younger co-stars.
As Harrison Ford once said of a particularly clunky line: "You can type this stuff, George, but you sure as hell can't say it!"
The film's signature look comes from Lucas's desire that we see a "used universe" unlike previous sleek sci-fi offerings such as Star Trek. The spaceships had to look as if they'd seen action and Lucas himself would rub dirt on props to age them only for the cleaners who came in every night to do their best to make things look spic and span again!
As you'd expect, Star Wars has garnered countless fans, many of them obsessives who collect every fact and bit of trivia they can. They've put together an online encyclopaedia brilliantly called "Wookieepedia" after Chewbacca's hairy species, and there's even an unofficial "Star Wars Day" May the Fourth. Geddit?
With Lucas's retirement as a producer of big-budget blockbusters last year, Disney swooped and bought Lucasfilm for $4bn.
They swiftly announced plans to make a further three films that would follow on chronologically from the first three with the first, Star Wars VII, due in 2015.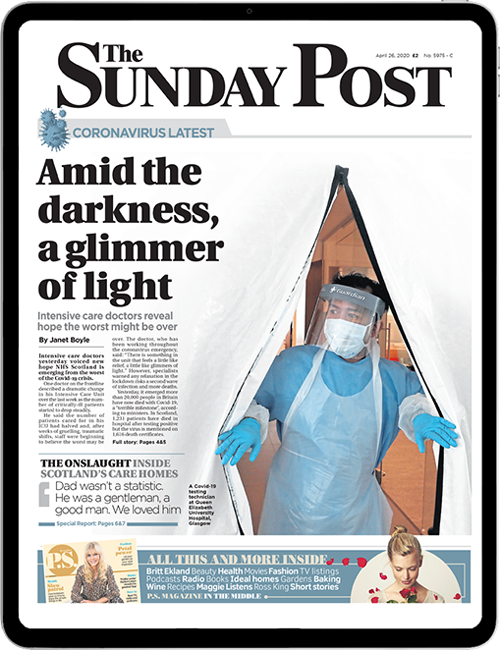 Enjoy the convenience of having The Sunday Post delivered as a digital ePaper straight to your smartphone, tablet or computer.
Subscribe for only £5.49 a month and enjoy all the benefits of the printed paper as a digital replica.
Subscribe