Apprentice winner Dr Leah Totton opens her heart on break from Celtic star Fraser Forster.
She's been dubbed Dr Totty and attacked for being too young and pretty to run a serious cosmetics clinic.
But today, Sir Alan Sugar's golden girl Leah Totton hits back at her critics and reveals the truth on her split from Celtic goalie Fraser Forster.
In an exclusive interview with The Sunday Post, qualified medical doctor Leah reflects on a whirlwind 2013.
Less than a year on from winning hit BBC1 show The Apprentice, Leah, 26, has successfully launched her first Dr Leah Clinic while still holding down a job in NHS A&E. She launched her dream business on her birthday, January 22, with £250,000 backing from business partner Sir Alan.
Fraser was there for the occasion. Just a few days earlier Leah had travelled to Glasgow's Celtic Park to watch him in action as his team trounced Motherwell 3-0. It was the first time they had met in over a year, but, contrary to media reports, it was not a romantic reunion.
Yet Leah is clearly fond of the man dubbed Celtic's 'Clean Sheet King' after setting a new club record without conceding a goal.
She is also candid when asked how a girl with a life in medicine came to pitch in with a Newcastle-born footballer. Blonde and beautiful she may be, but savvy businesswoman Leah accepts she was never the conventional 'WAG'.
The oldest of three children and a straight-A student, she was 18 when she said goodbye to her family civil servant mum Lorraine, dad Trevor, who owns a taxi firm, and siblings Jodie and Dale to study medicine at the University of East Anglia in Norwich. Fraser was then a rookie footballer on loan at Norwich City.
Leah remembers with a smile: "I was in my third year at university. We met at a gym, decided to go out to dinner and things blossomed.
"When Fraser later left to go to Scotland, initially on loan to Celtic, I was in my fifth year and had a bit more time on my hands, so I was able to spend a lot of it in Glasgow."
In the four years they dated, they got to know each other's friends and family well.
Leah adds: "We were fully together for four years. It was the longest relationship I've ever had. Fraser's family are lovely. I have a lot in common with them. Breaking the connection with them was hard."
Leah moved to the London area for her NHS foundation and later, with dreams of launching a chain of responsible, ethical, medically run and regulated cosmetic clinics, entered The Apprentice.
"Our relationship became difficult," she reveals. "Footballers are away a lot and have no control over that.
"It came to a point where I couldn't be in Glasgow and Fraser couldn't be in London. He had a fantastic career with Celtic and I was involved in The Apprentice. We discussed it a lot but decided to separate and remain great friends."
She adds: "We have different priorities and we are both extremely driven. We agreed we would devote the next few years to our careers. Our separation was driven by circumstances."
The sacrifice, while paying dividends for them both professionally, comes at a cost.
"It's been very hard," says Leah, "but this past year has been the best career year for us both.
"We are very alike. Fraser is the first person in training and the last one out. I'm the first person in the clinic and the last out. We met at the start of our careers and they have grown at the same time. It is then very difficult to find someone new, someone so like-minded."
And neither is she trying.
"I'm not looking for anyone else," she admits, and then laughs: "I wouldn't wish myself on any man right now. All I think about is the Dr Leah Clinic!"
With the 2014 series of The Apprentice pushed back until autumn to avoid a clash with the World Cup in Brazil, in which Fraser has high hopes of playing for England, Leah will hold on to her championship title a little longer than usual.
But she chuckles at the suggestion she is now a glamorous celebrity.
The down-to-earth Londonderry lass cannot take herself that seriously. "It's the oddest thing, being recognised on the tube and in restaurants," she says. "My NHS patients don't recognise me though. They only see me in my scrubs with no make-up on and my hair scrunched back. I'm not glamorous at all I just make a bit more effort for TV."
Leah works one day a week at Newham Hospital in East London for the Barts and London Hospital Trust and four days a week at her new clinic in the capital's trendy Moorgate.
Leah is immensely dedicated and proud of her seven-strong team, with number eight currently in training. And she is turning a deaf ear to her critics.
She says: "I just don't understand some of the reaction I've had. I cannot go on apologising for my age. I am a fully trained and qualified doctor and am more than capable of carrying out these procedures. But when I say that, I am then accused of being over-qualified."
With the experience gleaned in the six months since winning The Apprentice, she leaves her professional credentials, and those of her team, to speak for themselves. Her medical director Martin King is highly qualified and an experienced GP with special interest in cosmetics, while her newly appointed associate Taimur Shoaib, is one of Scotland's most prominent cosmetic and reconstructive surgeons. The chairwoman of her board of excellence is Lorna Bowes, a nurse prescriber and member of the Association of Cosmetic Nurses.
Leah says: "I could never have imagined just over a year ago where I am now. It's a lot to take in. It feels very strange. I did not apply to The Apprentice thinking I would win, I didn't even think I would get on to the show. Some of the other candidates were already high up in business and I was by no means an established entrepreneur. Winning came as a complete shock!"
And she reveals: "My mum doubted if I would be able to leave the NHS, but if I did not do it I would always have wondered what might have been. I am still young and this is a fantastic opportunity. I feel lucky to have been in that dilemma."
However she admits: "Career is not the be all and end all. I have made huge sacrifices in my personal, family and love life and that will not go on long-term. I will want to marry and have a family of my own in the future. I have a timescale."
And does that mean Scotland's own Clean Sheet King will be back in the game? Leah, always on the ball, grins: "We do plan to expand the Dr Leah Clinic so you never know, Fraser and I might end up in the same place."
Only time will tell.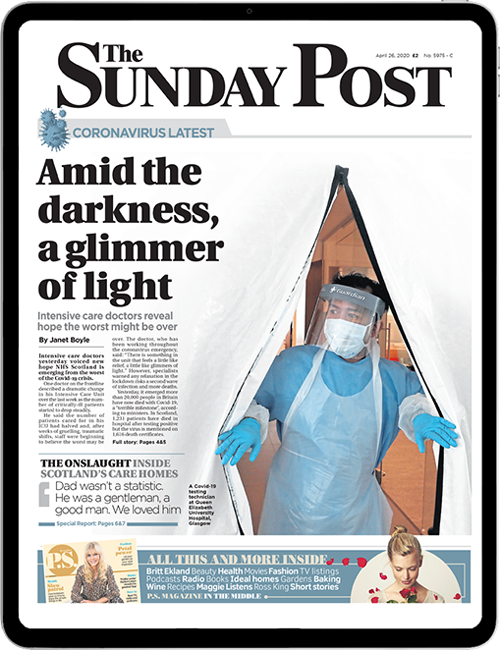 Enjoy the convenience of having The Sunday Post delivered as a digital ePaper straight to your smartphone, tablet or computer.
Subscribe for only £5.49 a month and enjoy all the benefits of the printed paper as a digital replica.
Subscribe