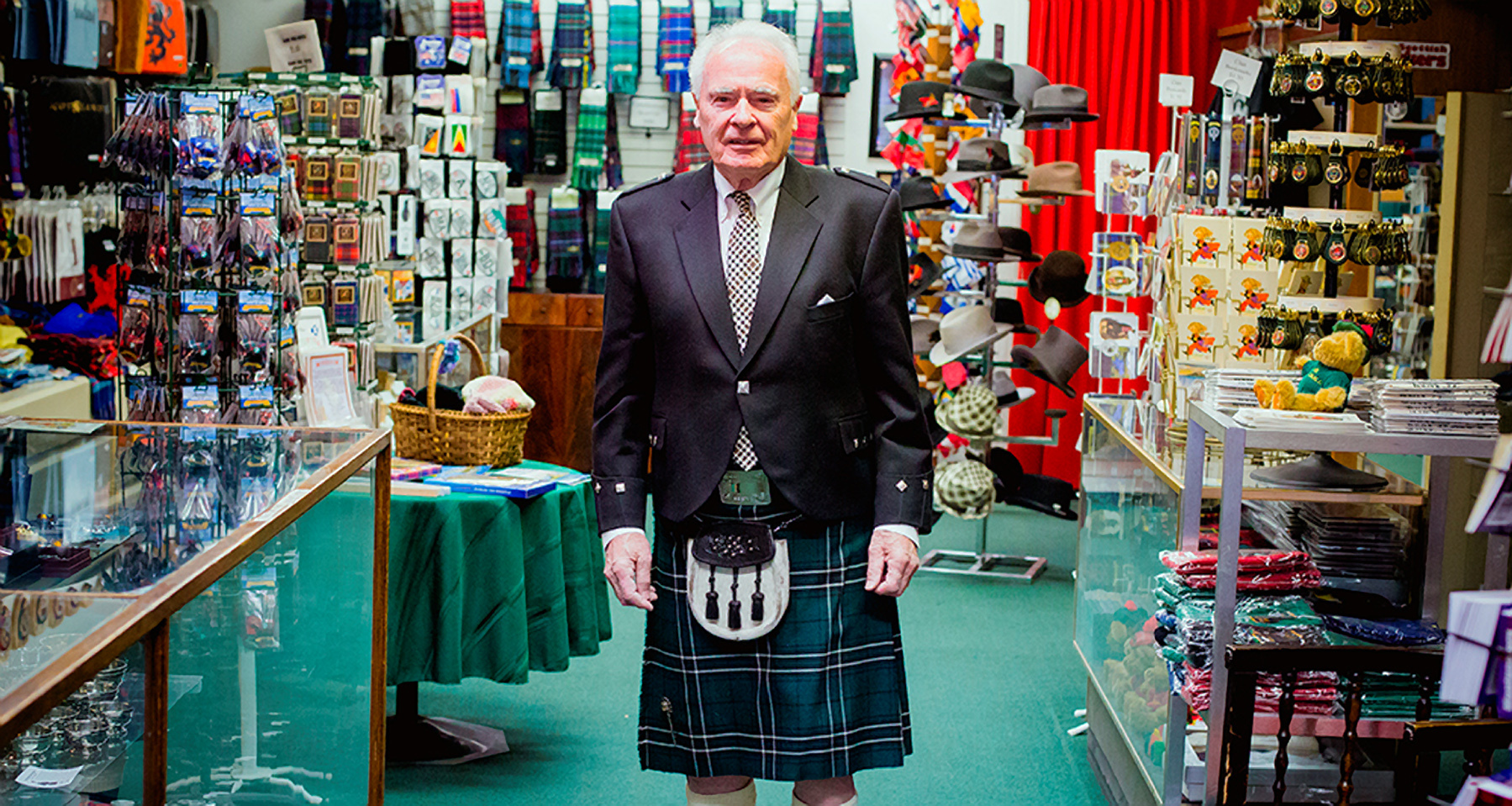 For nearly three decades, the sprightly 86-year-old has been selling see you Jimmy hats, William Wallace statuettes, kilts and bagpipes from his "weird" Scottish shop in Salt Lake City, the heart of the Utah desert.
The future of his unusual imports store was thrown into doubt when fire tore through the next door property – causing thousands of dollars' worth of smoke damage to his own precious stock.
But the twice married grandad-of-five – brother to Dundee, Spurs and Scotland legend Alan Gilzean – isn't going to let his business be ruined by such a trifle.
"I'm going to work till I drop," said Eric, who is originally from Coupar Angus, Perthshire.
"I've got about 15 people working to clean the ceilings and the walls, clean the merchandise, then paint the whole place – there's no stopping me yet.
"My plan is to work until I'm 95, then get shot by a jealous husband!"
Determined Eric was speaking to the Sunday Post in the aftermath of a devastating early-morning blaze which raged through the adjacent Utah Film Center.
Firefighters flooded the area – only preventing the blaze spreading to his Edinburgh Castle Scottish Imports store by smashing down two doors.
Last week, a team of workers were wading through water-logged soot in a major operation to salvage up to $35,000 (£25,000) of tweed jackets, tartan kilts and sporrans.
"We've got the place full of people, and fans going left, right and centre, just to get the smoke out," said Eric, who is married to fellow Brit Audrey Ann Hicklin, 76.
"But we've been going since 1987 –It'll take more than this fire to smoke me out."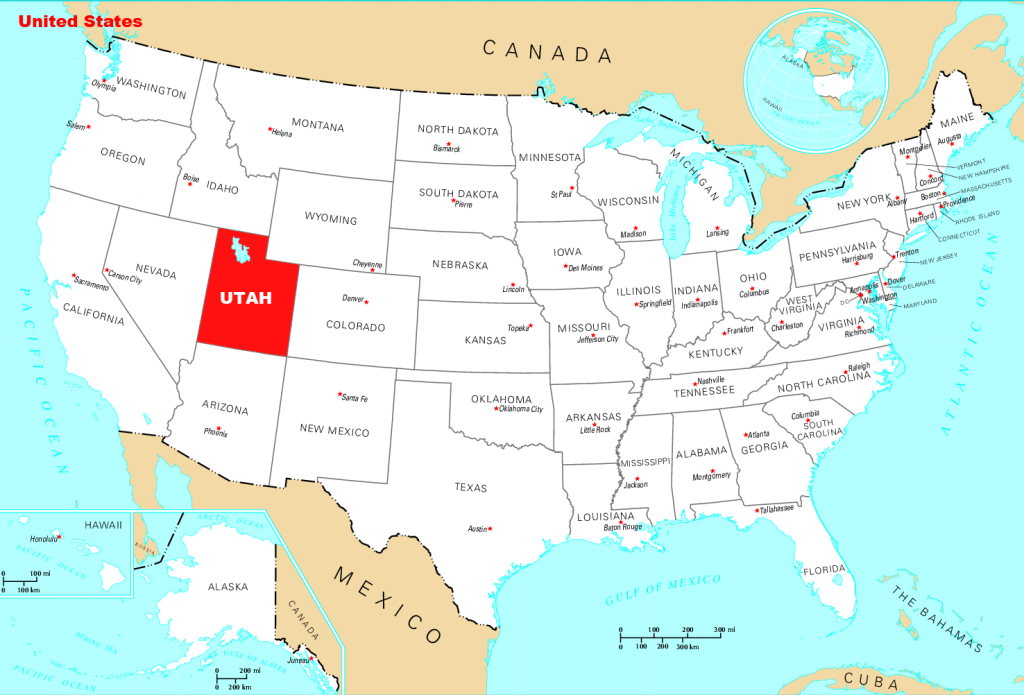 The proud Scot moved Stateside 62 years ago after meeting his first wife Betty Clark, in North Berwick, when she was performing under stage name Betty Jackson with Glasgow band the Jackson Sisters.
They fell in love and moved to her spiritual homeland of Salt Lake City, where two of her sisters lived. Betty died of cancer in 1991.
It wasn't long before Eric was yearning for home. He's made about 40 trips in the past six decades, sometimes catching up with family, including football ace Alan, 77.
Dad-of-two Eric said: "The only problem was that, every time I'd go back, people would ask me to bring something – a Harris tweed jacket or a kilt. I was spending all my vacations going round looking for this stuff.
"When a guy said I should set up a shop, I thought 'Why not?' Now I get people ordering from all over the world."
Stocking his shelves with tartan tea towels, tins of Irn Bru and the occasional claymore, business grew steadily as curious locals ventured through his doors.
The release of the film Braveheart in 1995, starring Mel Gibson, sparked even more interest in all things Scottish – and provided another major boost to business, he said.
Now the pensioner spends more time at his timeshare in Hawaii where "the weather's a bit more predictable," he joked. But in his heart he will always love Scotland.
Eric said: "My grandfather used to say that there are only two kinds of people in the world – those who were born in Scotland and those less fortunate. I'm one of the lucky ones."
US investigators said the fire started accidentally in the basement of the Utah Film Center when a fluorescent light overheated.
Eric's shop is online at www.edinburghcastle.com
---
READ MORE
I love my work so much I'm still clocking on after 80 YEARS – fuelled by two bowls of porridge a day
Retired George converts his passion for art into a full-time job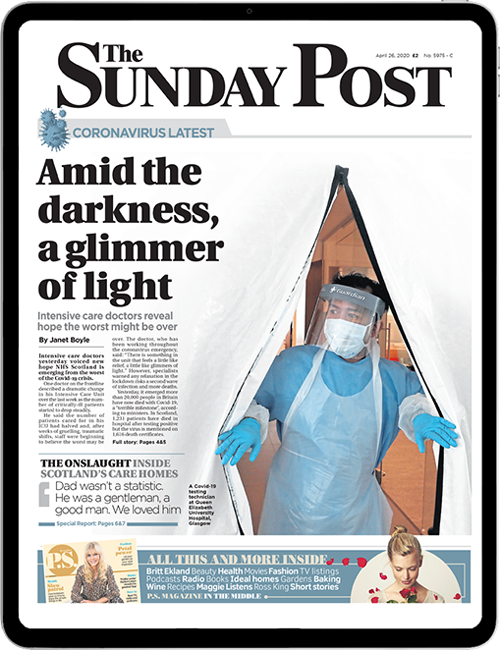 Enjoy the convenience of having The Sunday Post delivered as a digital ePaper straight to your smartphone, tablet or computer.
Subscribe for only £5.49 a month and enjoy all the benefits of the printed paper as a digital replica.
Subscribe