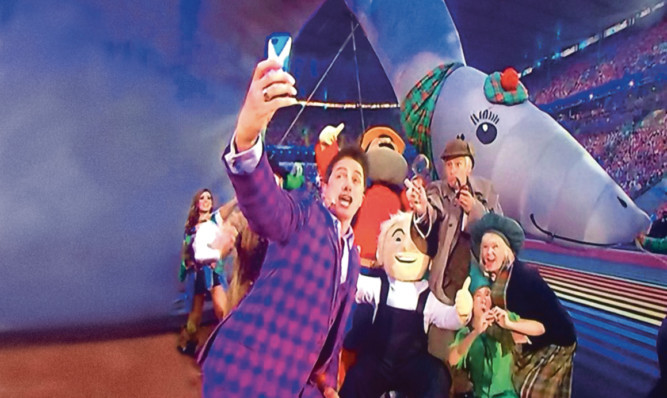 "Help ma boab! They wanted me to take centre stage at Games with ae fond kiss!
Did ye see me at the Commonwealth Games opening ceremony? I was there, near bursting my dungarees wi pride. Actually I nearly burst them for real because Ma gave me an extra big packed lunch tae eat in the build up tae the ceremony and I had three jeely pieces and twa bottles o' pop in aboot five minutes.
I was lucky I stopped short o' eatin' the fruit slice she put in or I might hae burst oot the bottom o' my breeks in front o' the whole Commonwealth on TV!
I was awfy nervous beforehand, right enough. My stomach wis doin' all sorts o' funny things or at least I thought was until I realised it was just ma wee mouse Jeemy birlin' aboot inside my dungarees (I sneaked him in so he didnae feel left oot).
I wore my best pair, the anes wi' only ane wee patch, because I kent Her Majesty was coming tae the do. I would hae worn my kilt because I'm awfy proud o' my tartan, but then again I'm glad I didnae as I wouldnae hae wanted John Barrowman tae grab me and gie me a smacker richt on the lips. Mind you, I woulnae want my auntie tae gie me a wet kiss either, so nae offence, John. And I definitely wouldnae kiss Fat Boab his breath is aye reekin o' chips and curry sauce and soor plooms. There was plenty braw things in the ceremony the pipes and drums were my favourite. I tried joinin' in at rehearsals but the big pipe major didn't seem awfy keen on me batterin' ma bucket along wi' the drummers. Some fowk hae nae taste.
Then there was Rod Stewart and Susan Boyle. It was braw tae meet Rod earlier in the day because the sun was fair beatin' doon an' I was able to stand in the shadow o' his big nose tae get oot o' the heat.
An' I cannae help but smile when I see Susan for she reminds me that much o' my pal Daphne Broon a very talented Daphne Broon right enough. A' these kilty pipers wid hae been in danger if Daphne had been around she'd hae given them all a bit o' Glasgow kissin'.
A'body thought the ballet dancers were awfy braw when they had a wee jig tae 500 Miles. The crowd didnae realise it was meant tae be me an' Primrose daein' that bit but I kept runnin' away fae her. I think I might hae broken a Commonwealth Games sprint record when she came for me the last time. Yon Usain Bolt laddie has nothin' oan me!
My hero Sir Chris Hoy presented the baton tae the Queen and she looked really pleased. Nae wonder it had been 120,00 miles awa roond the Commonwealth and could easy hae got lost.
Crivvens! PC Murdoch's baton got lost and he only went tae the toilet. He said he would present his new baton tae me if he heard I had onything tae dae with it.
There was a wee bit o' a guddle when the boy couldnae get the top off the baton. Maybe it wisnae such a guid idea tae stick ma chewin' gum there before I went oot intae the arena . . .
All the teams frae the different countries being led intae the arena by their flag bearers was a fantoosh sight.
I cheered till my tonsils went numb especially for Scotland. I reckon aw thae athletes will dae a grand job for the country, although I would hae suggested some late additions tae the team. I'd hae Hen Broon daein' the high jump he'd just hae tae step ower the bar tae win. And Daphne would be a fair shout for the shot putt.
Fat Boab could dae the divin' as weel. If he jumped in aw the water would jump oot and there'd be nothin' left for the ither competitors tae dive intae! An Soapy Soutar's a dab hand wi' a catapult, so he'd be a shoo-in for gold in the target shootin' especially if the target was in the shape o' PC Murdoch's polis cap.
For the march roond the stadium I would hae given us a wee flag and a' the other countries big heavy anes. That way they wid hae been mair tired when they went against us.
My big pal Desperate Dan was with me and he thought the highlight o' the show was the giant Tunnocks teacakes.
He tried tae eat twa before he realised it was dancers inside them. Come tae think o' it the giant kilt that was behind Karen Dunbar on the stage micht hae fitted Dan.
I thought the Scotty dogs were brilliant. All that way walking around and none of them went chasing rabbits or mice or anything.
I cannae take Wee Harry a walk roond the washing green withoot him acting the goat or lifting his leg ontae somebody's boots.
Jeemy didnae look too happy aboot it though. I think he would he been far mair impressed if the teams had been led oot by mice wi' wee jackets on. Mind you, if they'd done that they would hae needed aw those chairs the dancers had earlier for the lassies tae jump up on screechin'!
All in all it was a braw night an' I had a rare time. The only borin' bit was all those speeches by yon auld boys. I've had classes at school that were mair excitin' an' that's sayin' somethin'.
Gordon Matheson's speech was so loud Granpaw Broon said he heard it aw the way back in Auchentoggle . . . an' he didnae hae the TV on.
Now it's over me and Boab and Soapy are awa oot tae get intae training.
We want tae compete at the next Games. Soapy said we should dae the Triathalon but I think Scots bairns are mair suited tae a new type o' sport the Try-onythin'.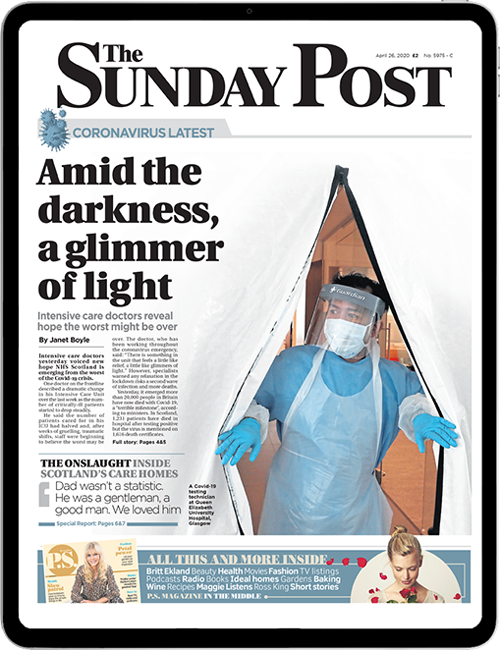 Enjoy the convenience of having The Sunday Post delivered as a digital ePaper straight to your smartphone, tablet or computer.
Subscribe for only £5.49 a month and enjoy all the benefits of the printed paper as a digital replica.
Subscribe