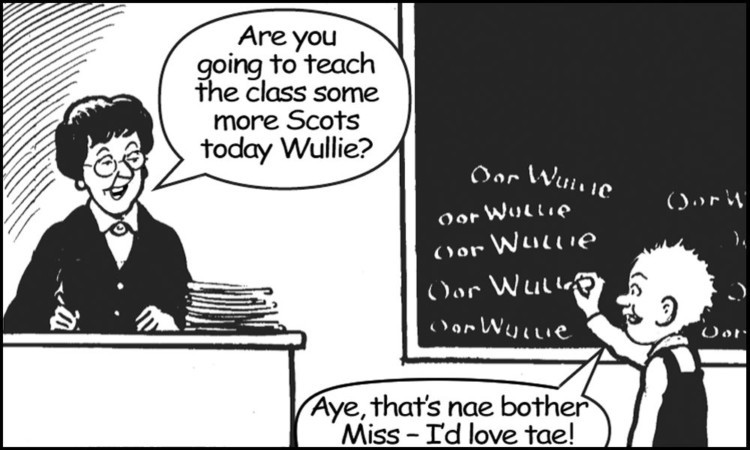 Oor Wullie will be teaching the Scots language to school children from across Scotland.
He's been entertaining the nation with his antics for generations and now he's heading for the classroom.
The cheeky DC Thomson comic character Oor Wullie, complete with his famous bucket and winning smile, will teach youngsters his native Scots tongue in an educational programme.
The National Library of Scotland (NLS) and The Sunday Post have teamed up to introduce the iconic character to classrooms around the country in a bid to teach Scots to children.
The campaign is geared towards supporting teachers, with the comic strip schoolboy fronting a brand new website which will be packed with educational resources.
The programme is being targeted at children between five and 10 years old and is currently being developed by the NLS, with extensive input coming from teachers, and school pupils.
And while a launch date is yet to be confirmed, National Library of Scotland Education Officer Alice Heywood says excitement is already building.
She told The Sunday Post: "There's a clear demand for the material, and it's a great opportunity for young people to engage with the character, and learn Scots at the same time.
"I think the appeal for Oor Wullie is the irreverent style – it's not preaching.
"The pupils we introduced this to found it fun and engaging, and it's something we think will work very well.
"The rascally-nature of Oor Wullie is a lot of fun, and although he's probably better known by parents and grandparents, we are finding that children are very engaged by the character.
"We also think it will fit in well with the Curriculum For Excellence.
"The materials that we are going to put on the website have been teacher-led, with sample examples and lesson plans coming from teaching professionals.
"It's very important to us that the material is both appropriate and interesting."
The website will include comic strips, quizzes, and interactive activities to bring Oor Wullie and his native tongue to life.
There will be a translation section, Scots poems, and even a gallery of comic strips that illustrate how Wullie has subtlely changed over the years.
The NLS have also got the Scots Language Centre and the Scottish Language Dictionaries on board to make sure Wullie doesn't make any linguistic slip-ups.
Scots Language Centre director Michael Hance said: "I think it is a fantastic project that will really help to introduce Scots to young people.
"Comic strips are an excellent way of presenting Scots, and I think it will really boost participation in the language.
"It's a very exciting project, and one that I think children will really enjoy."
The website will encourage youngsters to log-on as well as having sections specifically for parents and teachers to access.
The section dedicated to supporting teachers will include downloadable information packs, suggested lesson plans, and various activities, all geared towards keeping youngsters involved.
Teacher Lindsay Odie of Gilmerton Primary School in Edinburgh has already used Oor Wullie as a teaching aid, and believes the new resource will be a hit.
He said: "The children in my class really enjoyed Oor Wullie and it will be great to have access to the material.
"We usually teach Scots in January for Burns' Night, and using the comic character can help to bring the language to life.
"They even start to use the words outside of class. I think the resource will also be very popular with teachers."
The website will be launched later this year.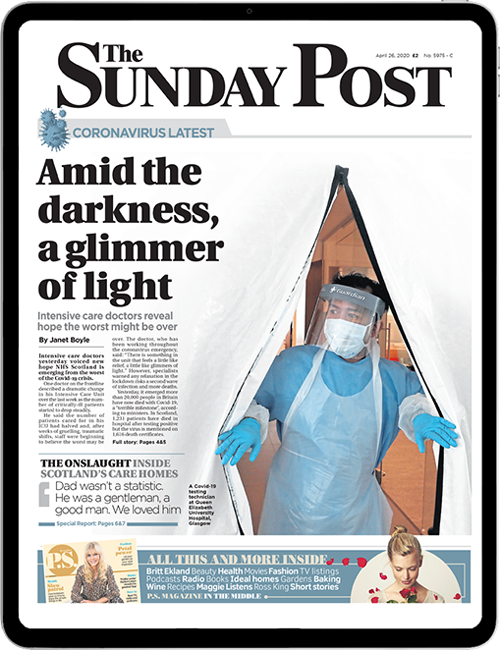 Enjoy the convenience of having The Sunday Post delivered as a digital ePaper straight to your smartphone, tablet or computer.
Subscribe for only £5.49 a month and enjoy all the benefits of the printed paper as a digital replica.
Subscribe