Scotland's first family have teamed up with the city's road safety department to remind older pedestrians of how to keep themselves safe when crossing roads.
The Broons will be travelling round the city on a vintage bus as part of a safety initiative.
In the Broons strip this week, the Bairn is taking Granpaw around Glasgow after she's had a road safety lesson at nursery.
Glasgow City Council's Road Safety Development Officer George Cairns said: "He steps out on to the road and she tells him they need to use a proper crossing. She explains the beeping noise he can hear is the sound of a van reversing."
George explained that accidents involving older people are more likely to end tragically.
He added: "Last year, without the bin lorry incident, we had 10 fatalities and seven of them were older pedestrians. This year up until April we had five fatalities and four of them were older pedestrians."
It's partly because they are frail and fragile, George said, with accidents that might leave a younger person seriously injured resulting in a fatality in older pedestrians.
He added: "Sometime accidents happen on clear roads in which drivers and pedestrians should have been able to see each other clearly, but because they may have issues with mobility or eyesight they have stepped out in front of a car."
Granpaw Broon is delighted to be helping with the campaign.
He said: "Crossing Glasgow's roads in my day was a wee bit easier. Ye just sauntered across minding no' tae step in onything the coalman's horse had left behind.
"Nowadays, there's that much traffic ye've got tae keep all your wits aboot ye.
"The best thing for me is tae keep hold o' the Bairn's hand. The young anes ken all aboot road safety. It looks like I'm looking after her, but actually she's looking after me."
George said the campaign is about reminding people about the basics of road safety.
He added: "Glasgow has 800 crossings, but some of the accidents happen within 50 or 100 yards of a crossing. Some actually happen on a crossing, but people haven't pressed the button or waited for the green man.
"It's about using the Green Cross Code so that people stop, look and listen, and planning journeys so you don't go out during rush hour.
"It's reminding people about basic road skills and how traffic has changed over the years."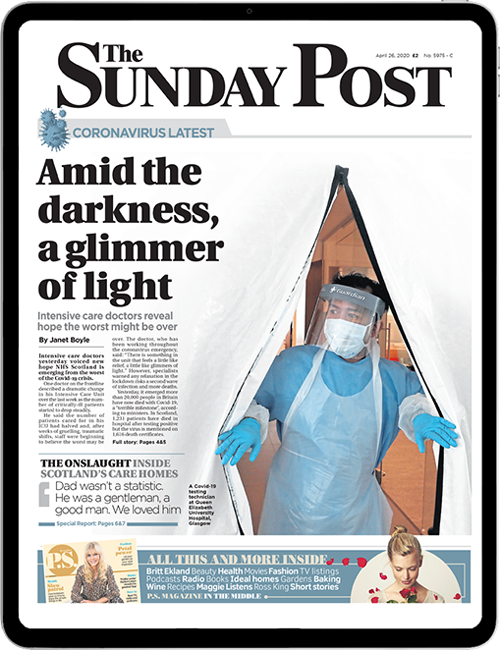 Enjoy the convenience of having The Sunday Post delivered as a digital ePaper straight to your smartphone, tablet or computer.
Subscribe for only £5.49 a month and enjoy all the benefits of the printed paper as a digital replica.
Subscribe