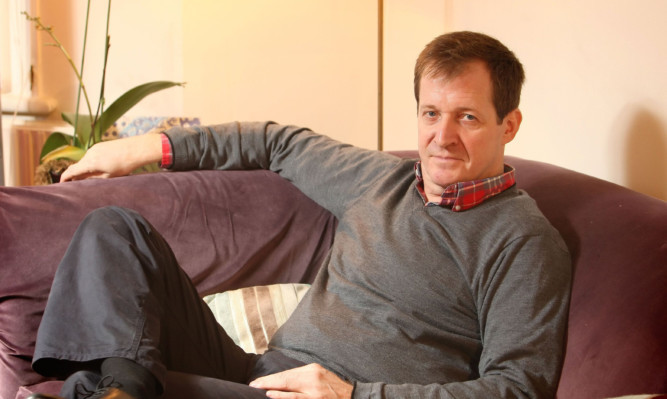 Tony Blair's spin doctor lifts the lid on life out of politics' pressure cooker.
Love him or loathe him, Alastair Campell has been one of the key figures in British politics for the last 25 years. So when he suggests he's keen to talk about The Broons, it's a surprise to hear he means Paw, Maw and family rather than former Prime Minister Gordon.
Ahead of my visit to his north London home, I venture onto Twitter to see if anyone has suggestions for an opening question. He is, after all, an acknowledged master of the media having supported Tony Blair through three General Elections. Not a man to question without some preparation.
Inevitably, he spots the tweet and responds with "who is his favourite Broon?"
@GSherriffSP who is his favorite Broon?

— Alastair PEOPLE'S VOTE Campbell (@campbellclaret) February 25, 2015
Sitting in the front room of his comfortably large terraced home, he laughs as I put the question to his face.
"My favourites were Paw and Horace and I had a soft spot for Maggie. I was once asked what my 'guilty pleasures' were when it came to books. For me it was The Broons and Oor Wullie annuals. My Auntie Nan used to send them as a Christmas present every year. I've still got them upstairs."
Although born in Yorkshire, Campbell is proud of his Scottish heritage. His father was born on the island of Tiree and he's often in Scotland. He even turned down a request to run for election as London Mayor on the grounds that he didn't feel like a Londoner despite having lived there for more than 30 years.
"I'm going back next month for a big family occasion. All my dad's siblings are dead but I've still got a few cousins. I have relatives in Ayrshire and my brother lives in Glasgow so I go up a lot."
He also brings a taste of Scotland to his north London neighbourhood in the form of the bagpipes, which he still plays two or three times a week. Presumably with the permission of some understanding neighbours?
"If you go next door and speak to my neighbour and her son, they'll tell you that if I haven't played for a few days they'll be asking why. They love it!"
He once played in front of more than 2,000 people at Glasgow Royal Concert Hall for a TV series.
"My mum came and it was brilliant, the best I've ever played thanks to the coaching, preparation and the adrenaline. Afterwards Fiona (Fiona Millar, his partner who also worked for Blair) bought me a new set of pipes."
Credited with much of the change that saw New Labour and Tony Blair govern for 13 years, he's a lifelong student of what it takes to succeed. For his latest book, Winners, he spoke to a host of successful people in business, politics and sport to see what got them to the top.
"I'd like politicians to read it and realise that if they look at sport properly they could do their own jobs better, sportsmen to think there's more to politics than they realised and businessmen to think 'he's got a point about this strategy stuff.'"
He says politicians often live in a bubble, with a very narrow understanding of what matters.
"They'll ask 'did you see what so-and-so wrote this morning?' No, and probably their constituents didn't either. I was as guilty as anyone of living within the bubble but I always felt we were trying to reach out beyond it to real people."
A family memory illustrates the point that we can all miss things outside of our immediate interests.
"We were in the garden when Iain Macleod died, one of the few serving cabinet ministers to pass away. When my mother came out of the house and told us, my Uncle James who was visiting from Glasgow said, 'ah, yes, Iain Macleod, he was a fine piper."
_______________________________________________________________________________________________________________________________________________________________________________________________________________________
The Life and Times of Alastair Campbell
1957 Born in Keighley, Yorkshire, where his father Donald, a Tiree-born vet, had settled with wife Elizabeth.
1968 Family moved to Leicester, and he went to school there.
1979 Graduated from Cambridge University with a degree in modern languages.
1982 Began his career as a journalist writing sports stories with local newspapers, but moved to Fleet Street where he became a political correspondent.
1986 Campbell was admitted to hospital while in Glasgow to cover a visit by Neil Kinnock. He was treated for alcohol-related mental health problems.
1994 Became Tony Blair's spokesman after Blair succeeded John Smith as Labour Party leader. Blair credits Campbell with coining the phrase 'New Labour'.
1997 Appointed the new Prime Minister's Chief Press Secretary after Blair won his election landslide.
2003 Resigned during the Hutton Inquiry into the death of Government scientist David Kelly, who believed the Government had exaggerated the threat from Iraq in the run-up to war.
2005 Head of Press for the British and Irish Lions rugby tour to New Zealand.
2012 Presented Panorama, in which he explained he was an alcoholic, but had not drunk alcohol since 1986.
_______________________________________________________________________________________________________________________________________________________________________________________________________________________
Despite being famous, and occasionally infamous, for his work with politicians, Campbell admits his first love has always been sport.
"When I was growing up I read more about sport than anything else." He admits he falls firmly into the ABE (Anyone But England) camp.
Invited to play in a UNICEF pro-celebrity match, he insisted he play for A Rest of the World side rather than England and wore his Scottish jersey underneath the official team kit.
Before playing in front of 72,000 people at Old Trafford in a side that included four World Cup winners, there was a surreal pep talk in the changing room.
"I was playing the pipes while Maradona and Gianfranco Zola danced on the physio's bed, with David Ginola and Peter Schmeichel."
Although he helps out with fundraising events for the Labour Party, he says he doesn't miss frontline politics enough to return to it, either as an adviser or a candidate.
"Ten years ago I might have said yes, but I now have a freedom I never thought I would have. My life consists of writing, speaking, campaigns, consultancy, charity and I do something of all of those each day.
"I see Ed (Miliband) regularly, talk to Douglas (Alexander), and I'll definitely be up to help Jim (Murphy) in Scotland. I'm happy to help but I don't want to do anything full-time."
When I ask if he has any concerns about the fallout from the long-awaited Chilcott report into the Iraq war, he politely rebuffs the question.
"I said on the day I gave evidence that I wouldn't say a word until he reported and I've stuck to that."
Winners and How They Succeed, by Alastair Campbell has just been published by Hutchinson at £20.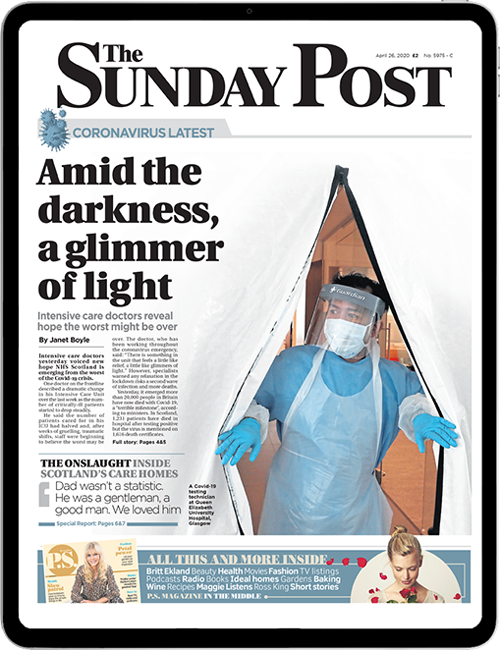 Enjoy the convenience of having The Sunday Post delivered as a digital ePaper straight to your smartphone, tablet or computer.
Subscribe for only £5.49 a month and enjoy all the benefits of the printed paper as a digital replica.
Subscribe