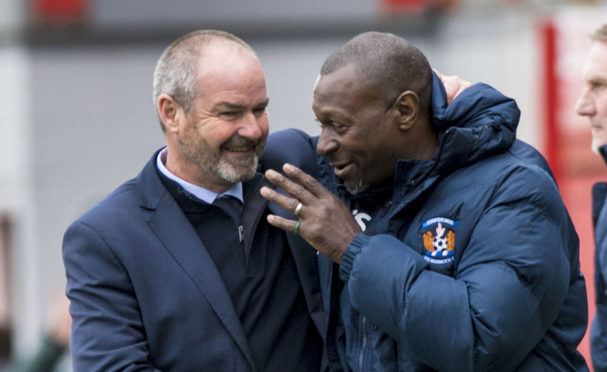 Alex Dyer has worked with some of the best managers in the game and taken all his coaching badges.
But his greatest football education has come working with Steve Clarke at Kilmarnock.
The Rugby Park assistant boss includes former England manager Sam Allardyce as one of the men he's shared a dressing-room with.
Big Sam has arguably achieved more than Clarke in his managerial career, but listening to Dyer talk about the last 18 months at Rugby Park confirms why the SFA are on the verge of announcing him as the new Scotland boss.
He said: "I've had a long career. I've worked under Avram Grant, Sam Allardyce, Eddie Gray and Stevie Coppell.
"I've had a lot of managers that I've played under, coached under or worked beside, and the gaffer is the best.
"I worked with a good person in Chris Powell for five years. He's a good man, but I wanted to go to another level and since I've been here, every day has been an education.
"I've learned a lot. You can have all the badges in the world, but when you're outside and learning from someone who sets the standard high, badges can't replicate that.
"I've been very lucky and blessed to be here."
The pair first met in London and Dyer was immediately in awe of the former Chelsea and Scotland defender.
He went on: "I have known him since I was at West Ham. I was reserve manager, he was assistant manager to Zola.
"I realised when I watched him that his coaching ability was second to none. All I wanted to do was learn.
"I went off, got my coaching badges and finished up getting my Pro-licence.
"When he called me to come and assist him, I jumped at the chance.
"It wasn't a case of: 'I'll think about it'. I said: 'Yes,' straight away.
"He said: 'You know it's Scotland. I said: 'Yeah, it's all good'. I came up and it's been a good journey."
Dyer talks about Clarke's qualities and mentions firm leadership, clear communication and an ability to improve players.
It's like a wish list for the man you'd want to replace Alex McLeish and revive the national team's fortunes.
He went on: "He's the old-school type. What he says, goes, but he gives you scope.
"He understands the modern-day footballer.
"The players at Kilmarnock want to please him and that's a great thing for a manager to have.
"When you get good results, they believe in what you say and buy into it.
"They're good professionals, they see how hard we work and what Steve demands on the training pitch every day.
"He demands that they run, that they chase, that they fight and pass the ball. All the things that are going to make us a better team and better club.
"Everyone buys into that, and it's easy then, once everyone knows what they're doing.
"He loves being out on the grass, coaching.
"Whatever decision he makes about his future, he knows what he's going into."
A home victory over Rangers today would secure third place in the Premiership for Killie.
The club were rock bottom when the Clarke-Dyer combination took over 18 months ago.
"It's been a dream, and everyone has worked hard to get us to where we are," continued the Kilmarnock assistant.
"Each week you see that little bit of improvement, and all of a sudden you realise that you can climb the league.
"Teams don't say: 'It's just Kilmarnock, they're going to roll over now'.
"They know they're going to be in a tough game, and that's because of the manager.
"Last year we finished fifth and it was a magical moment.
"All we wanted to do this year was to try to achieve that again, so to be third would surpass that.
"It's nice to go into the last game of the season with something good to fight for."