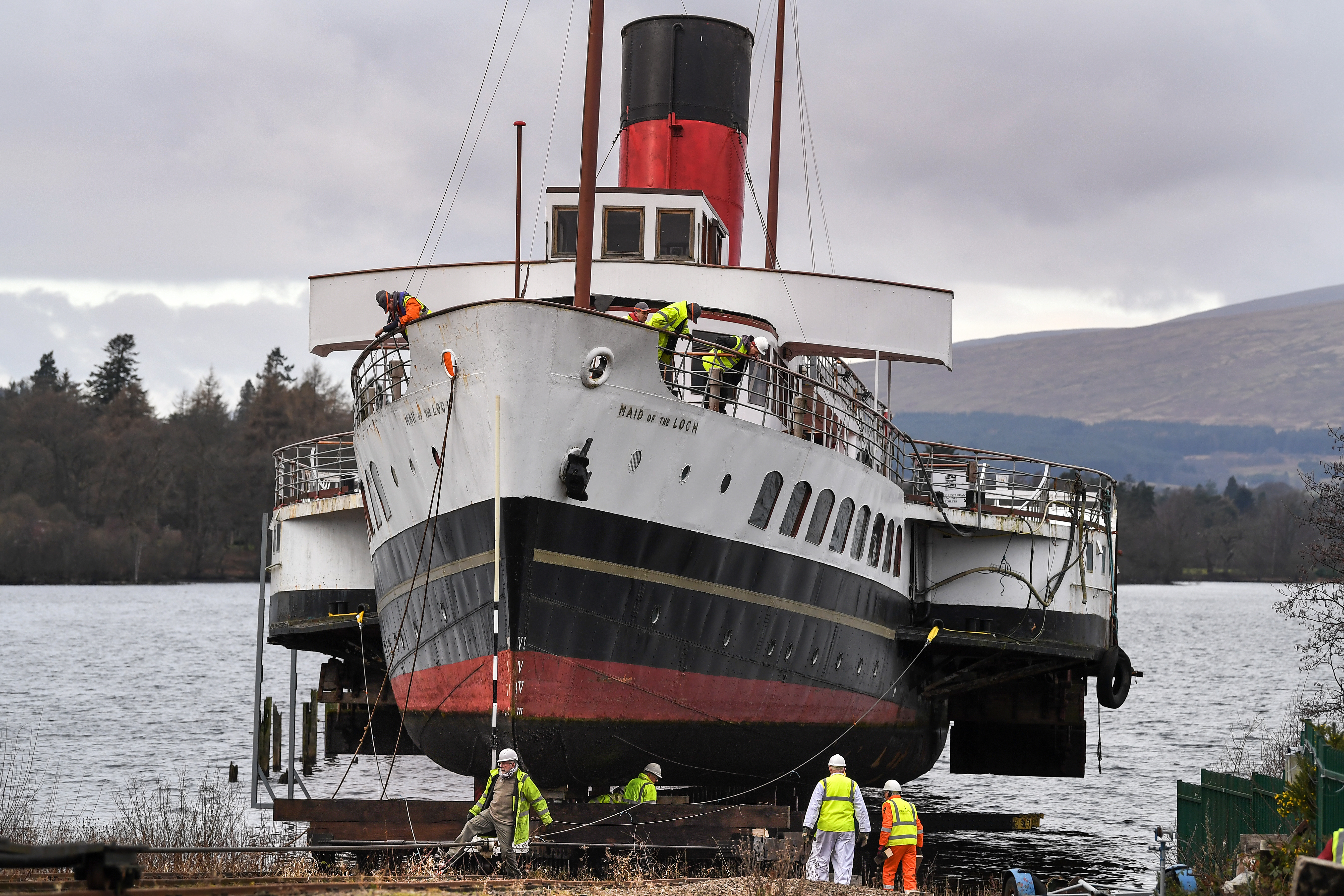 AN attempt to bring paddle steamer Maid of the Loch ashore today ahead of a £1 million project to rejuvenate the historic vessel has been abandoned.
An incident during the operation to lift her from the water, believed to be with the carriage holding the ship, forced operators to return the Maid to her berth.
Reports from the scene suggest the cradle snapped, sending the ship sliding back into the water.
It was only the second time in the last 40 years that she had been lifted from the waters of Loch Lomond.
A statement from the ship's owners said: "Unfortunately an incident has happened with what we believe to be the carriage and the ship is now back in the water.
"We will now secure her back to the pier to assess the situation. Thanks for your support today, updates will be provided once we know more."
Maid of the Loch now being taken back to her normal berth. Operation to get her up the slipway abandoned for today. She broke free and ran back down the start of the slipway into Loch during the effort to haul her out on a cradle. #maidoftheloch #lochlomond pic.twitter.com/LKVAP1urTY

— Aileen Clarke (@BBCAileenClarke) January 10, 2019
Currently a static attraction, the Maid was being pulled from the water by the original winchhouse at Balloch Steam Slipway.
Significant refurbishment works are planned to make the former Loch Lomond cruiser into an existing visitor experience.
An ultrasound survey is to be carried out on the hull of the steamer, which has been moored at Balloch Pier since 1996.
Behind the scenes as we get prepared to start pulling our iconic #paddlesteamer up the slipway pic.twitter.com/in1TA9u6sL

— Maid of the Loch (@maidtosail) January 10, 2019
Planned restoration work includes reviving the interior saloons to their original style from the 1950s, restoring engines and machinery and creating an education suite.
Funding for the project has come from the Scottish Government, who contributed £950,000, as well as £50,000 from the Paddle Steamer Preservation Society.
The Loch Lomond Steamship Company said the money would go towards repairing the paddle steamer's hull and engines.
Ship alignment on the carriage underway 🤞 pic.twitter.com/aAjqJmhDY7

— Maid of the Loch (@maidtosail) January 10, 2019
Maid of the Loch was first launched from the Bonnie Banks in 1953, having been assembled in Glasgow, taken apart and rebuilt at Balloch.
She carried millions of day-trippers on the loch in her 28 years of cruising, including trips with royal guests and celebrities.
The last paddle steamer built in Britain, her popularity peaked in the 1950s and 1960s.
Decommissioned in 1981 as cheap foreign travel had an impact on 'staycations' and visitor numbers dwindled, the Maid was neglected and decayed away until being purchased in 1992 by Dumbarton District Council.
She was then rescued in 1996 by volunteers of the Loch Lomond Steamship Company, who continue to take care of her to this day.